Applications
Automotive
Railway
Industry
Working wear
Thanks to its special manufacturing process, made without PU back-coating, MAGICTAPE™ has flame retardant performance equivalent to FMVSS 302.
Another feature withstanding 180℃ dry condition enables customer to improve product quality and reliability.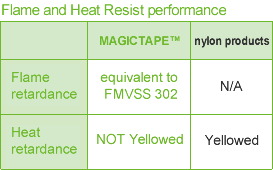 MAGICTAPE™ suitable for high temperature applications
Durable against heat
Kuraray's special manufacturing process for MAGICTAPE™ results in superior performance under high temperature (140-180℃ dry) condition.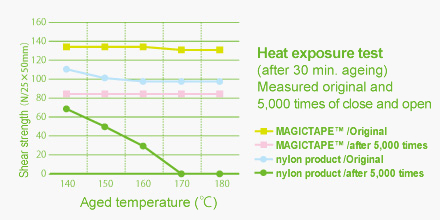 Only Polyester. Simple but attractive
Beyond the limit
We are always trying to offer outstanding performance for the sake of customer satisfaction. Below pictures are example of trial test result that can prove how MAGICTAPE™ has potential on applications that require heat resistance.
*Please be noted that this test result does not guarantee a performance.
Advanced evaluation test for the intended application should be conducted.
Heat aging evaluation
(tested by Kuraray Fastening Co., Ltd.) 200℃ x 8hours
Kuraray Polyester product

nylon product (discontinued)

A8693Y.71

A69600
Original
200℃ x 8h
Original
200℃ x 8h

X 50
●Specimen
Left / MAGICTAPE™ = Kuraray's polyester product, White color
Right / Kuraray's nylon product, White color
MAGICTAPE is a registered trademark or trademark of hook and loop fastener owned by Kuraray Co., Ltd.