Kuraray Fastening has developed the next-generation, environmentally responsible hook and loop fastener.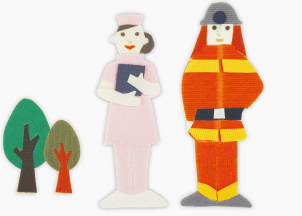 For the past 80 years, Kuraray Co., Ltd. has been defined by their role as a responsible innovator.
In 1960, Kuraray launched hook and loop fastener production in Japan. After the adoption to super-express train, it was the first major application, brand name of "MAGICTAPE" became popular and number of applications were increased throughout Japan.
In 2004, Kuraray has developed innovative production process that does not need PU (polyurethane) back-coating.
It was the first and only hook and loop fastener made by 100% polyester fiber (PET & PBT), without PU back-coating.
Based on its innovative process, Kuraray has been introducing special products to the market.
And not only for environmental friendly but also value added, MAGICTAPE™ has been taking a share of the market.
MAGICTAPE™, will keep contributing to the environment and offer satisfaction to customers.
Performance & technical benefits
Water resistance

Peel and sheer strength remain the same in wet conditions, ideal for outdoor and marine applications
Closure strength of nylon made products decrease about 30% in wet conditions, compared to original performance.
Heat & Flame resistance

Fire retardant – Passes automotive fire standards (FMVSS No.302) without additional treatment
Better heat resistant compared to nylon product, thanks to elimination of PU back-coating that is flammable and not resistant to the heat.
Weather resistance

Less yellowing and color change with heat and light, since MAGICTAPE™ does not hire PU back-coating.
MAGICTAPE is a registered trademark or trademark of hook and loop fastener owned by Kuraray Co., Ltd.